FAQ
The Andrea Klimko Acadmie provides universal access to CPD or CEC certified content to professionals within the architecture, engineering and construction industry through our CPD distance-learning programme.
How can the academy benefit my practice?

The annual required education for professionals to maintaining their competence can become very expensive. With the Andrea Klimko Academy students have made savings of up to 850%!

We provide an affordable way for architects, engineers and builders from around the world to acquire the certificates and credits while learning subjects valuable of their trade.
How long is the courses accessible?
After students enroll in a course the content is available for six (6) months, 24/7. To achieve a certificate, the course(s) must be completed within this time-period.
Enrolled students also have free access to any new and updated content included in your registration within the six-month time period. In course bundles, students will have access to any number of new content added to the bundle.

Why Continuing Professional Development (CPD/CEC) credits?

Most chartered members are obliged to spend a minimum of 35 hours each year or more maintaining their competence. Without updating your skills you may lose our membership.
Is CPD equivalent to CE, CEC and CEU?
Yes. The UK provided CPD credits are internationally acknowledged and is equivalent to the U.S. system of CE or CEU continued educational credits.
How do I earn credits?
To earn CPD credits students have to enroll in an individual course and select "Certificate and CPD" in the registration process and take all required learning modules.

How many CPD/CEC credits can I achieve?
Attendees will earn the equivalent of 1 CPD point or credit for each hour of content you complete.
Course bundles: If you register for a course bundle you will receive one certificate with a maximum of 8 CPD points.
Individual courses: If you register for individual courses you will receive CPD points for each hour of the course you complete plus a subject specific certificate. For example, if you register for 5 individual courses you have the option to get 5 certificates plus CPD points equivalent to each hour for each individual course.

What are the fees?
All learning course materials on our portal is completely free of charge. Service fees only apply for educational accreditation (CPD/CEC), the administrative process and certificates.
How often is content updated?

New content is added monthly.

What is included in a bundle offer?
A bundle offer is a discounted option with access to all multiple content plus one certificate of attendance and up to 8 CPD credits that the student can use with their annual requirements with their chartered membership(s). In course bundles, students can themselves chose what subjects to study.
How do I receive a non-CPD certificate?
An academy certificate is provided 30 days after your completion of either an individual course or a bundle certificate. You can select to register either for a certificate with or without CPD points.
Contact us to verify your learning and to process your certificate: [email protected]

Note: AK Academia is in process to integrate automated certificate completion. We expect this feature to be available from March 2017. Attendees will have the option to verify their certificates and share their qualifications on Linkedin and social media.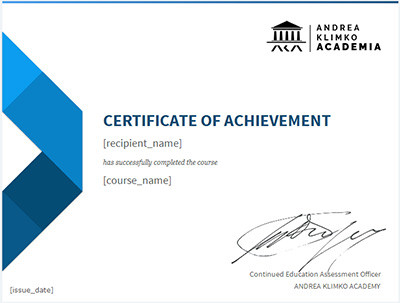 How do I receive the Accredited CPD Certificate?

Find the course you wish to take, register for the course and pay the fee. Once you have completed all the content, notify us and your certificate will be issued within 30 days after verification.
Contact us to verify your learning and to process your certificate: [email protected]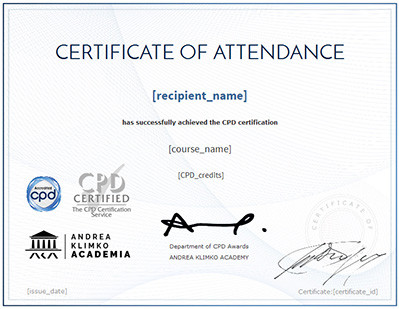 Where is the AKA located?
Our administrative processing and CPD provider is located in London, United Kingdom.